Kansas City's JC Nichols Memorial Fountain Models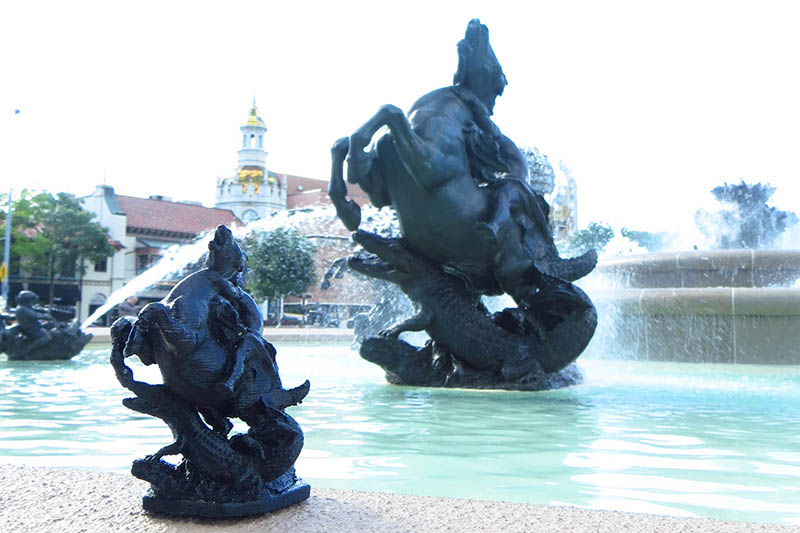 View and Download the 3D Models on Sketchfab or CG Trader.
You can download the whole collection as .STL and .OBJ model files on CGTrader.com.
The JC Nichols Memorial Fountain is the crown jewel of the collection in Kansas City, which is also known as The City of Fountains. They were originally sculpted in 1910 by artist, Henri-Léon Gréber (father of the noteworthy architect, Jacques Gréber) for the mansion estate of Clarence Mackay (known as "Harbor Hill") in Long Island, NY. The collection of sculptures in the fountain has four heroic horsemen representing the four most commercially important rivers of the world in the early 20th century: the Mississippi River with the Native American riding the horse and repelling an alligator, Russia's Volga River with the bear, France's Seine River with the "mohawked" merman, and Germany's Rhine River with the twin-tailed merman.
The sculptures were purchased and relocated to Kansas City, MO in 1951. Here, the surviving Art Nouveau pieces were restored by Herman Frederick Simon and dedicated as the JC Nichols Memorial Fountain in 1960. Today, the fountain can be found in Kansas City's Country Club Plaza on the east side of J.C.Nichols Parkway between 47th and 46th Terraces.
These models were produded from long-range tripod-mounted laser scans rconverted to meshes with Autodesk Recap and MeshLab (I made a tutorial here: https://www.youtube.com/watch?v=YR6QGJEkEGA). They were slightly touched up with ZBrush.